Friday, January 22, 2010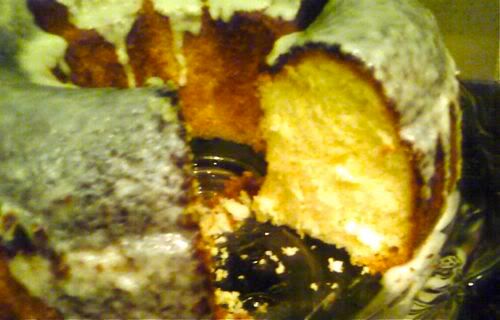 { Diet Killer }
The Good
: I found out that the cake last night was originally from Jessie's most beloved Williams-Sonoma Mastering Cakes, Fillings, & Frostings. I've cursed that book ever since Santa brought it to her several years ago - well before the celiac episode. Anyway, it's called Orange Chiffon cake and, yes, it is delicious.
Jessie went to the mall with a friend this evening and my plan is to divide the cursedly high-calorie cake and stash it in the freezer - a.k.a. never-never land.
The Bad: I held her down, pried, tickled, and practically beat the kid. Do you know what she told me? She winged the recipe from the seat of her pants. Apparently, she'll need to bake it again to determine the actual substitutions. Egad. Anyway, she substituted the flour with white and brown rice flour, tapioca flour, and xanthum gum. I was in the other room and did not see a thing. So what I promised, I cannot deliver until a later date.
I have to say that this is without a doubt, her most successful transformation to date. The cake tastes EXACTLY like it did when it was full to the brim of glutenous bad stuff. Even today, it was still moist and light. It has a great spongy texture. Yeah, I'll get the recipe and pass it on - some - day. :(
Sorry the photo is terrible. I had to take it with my camera phone. Jessie seems to have lost the camera charger at the moment. Sometimes don't you just want to...? Oh, never mind.
Have a great Friday night.