Tuesday, September 22, 2009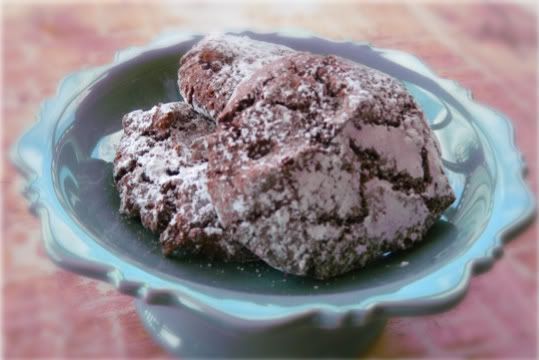 First, these cookies are to die for - if you have celiac, if you DON'T have celiac, if you like to eat cookie dough. Hands down. The bomb. Jessie made these for the second time yesterday during our

rainstorm from hell

. She tends to get carried away with the powdered sugar, so it may be a little hard to tell that they are actually chocolate cookies from the picture. Seriously, try them. You won't regret it.
We are excited because in just two days, count them, two days, we're going on another road trip to visit our friends in Virginia. The guys, who have been sufficiently loaded up with Lean Cuisines and frozen hamburgers, are going to stay home and hold down the fort. Jes will be going to homecoming at her former high school. I get to see my friends, Jes gets to see her friends and boyfriend, go to a football game, a dance on Saturday night, and

Young Life

with her friends on Monday night. If we survive all of that, we will return sometime next week. The nice thing is that Jessie will be taking school along with her and can work on it during the day while her friends are in school.
Hoping everyone has a wonderful, healthy upcoming weekend. Movie night? Make these cookies!