Thursday, September 10, 2009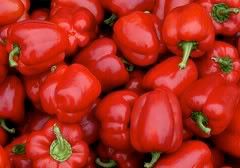 Okay, so I've planned a fabulous menu for this week - something that makes me ridiculously proud of myself and my planning skills. I've shopped for ingredients.
It's Wednesday night and I'm trying something new and exciting, roasted red pepper soup. I pull up the recipe to give it a quick once over. This is the precise moment that the true ditz in me begins to shine brightly. What??? How did I miss the recipe calling for sixteen slices of french bread? I seemed to have found the only existing recipe for roasted red pepper soup containing bread. GEEEEZ.
Dinner plans, once again, scrapped. Send the kids out for substitute dinner ingredients. Receive no less than five telephone calls from said kids as they search the aisles of the grocery story. Come on people, how hard is it to find hamburger?
After researching again, I lucked up and found a
substitute recipe
. I'll be trying it soon. (Remember, if you've read my profile, I'm a gourmet WANNA-BE, not a gourmet.)