Friday, September 11, 2009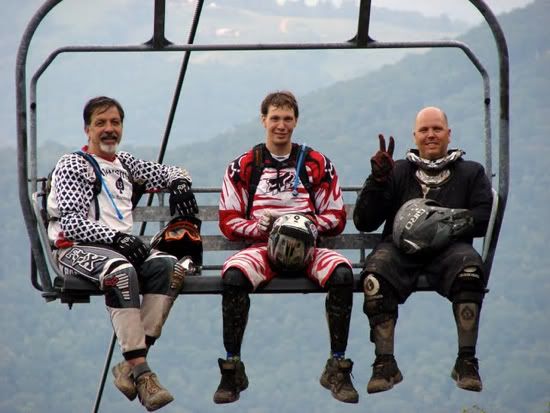 Interesting title, isn't it?
First, the boys:
This is my son, Wes - the one who doesn't like being written about or photographed. I love this picture of him. (He's not the bald one or the bearded one - I'm not THAT old) This picture was taken as he was racing in a mountain bike competition in Snowshow, WV a couple of weeks ago. Isn't the view great? And don't you love the red zebra outfit? :)
School:
Jessie received her school stuff yesterday and, even after assuring me that she doesn't need any help and to PULEEZE leave her alone, I tossed and turned all night long worrying - as every good mother should. Just doin' my job. Her English Lit and Spanish III are completely online and the other courses (Advanced Algebra/Trig, US Government and Chemistry) are online with an actual textbook. It'll be an interesting year.
Now, the shots:
Who out there rushes out to get a flu shot? I've heard and read both ways for CFS patients. For us, Jes has had a flu shot with no side effects each year since she's been sick. So I think she'll be getting one, especially since it's so bad this year. Then she'll get the other when it comes out in October. Are you getting the shot?